Would you like to give your employees or business partners a great gift that will be really useful and which they will enjoy for years to come? With the innovative range of Nikki.Amsterdam products, you will not only be giving a beautiful gift, but a recognisable expression of appreciation for the person you are giving to.
Brings People Together
We hope you connect with our products. Not only in and around the home, but during a pleasant get-together in which our products contribute to those moments that will not easily be forgotten. All of our products have a luxurious look and feel which make them ideal for a very personal gift. We are confident that you will make a big impression with such a gift!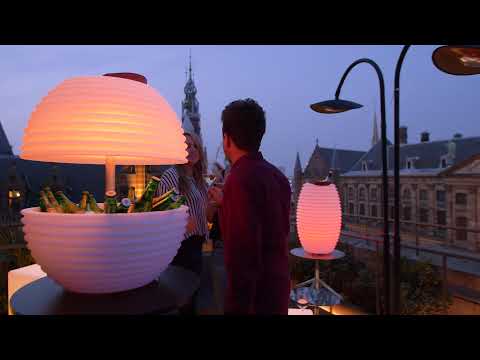 In our shop you can view the whole range of Nikki.Amsterdam products. We would like to highlight some of them. Our favorite is of course The.Lampion which is available in different sizes. This lantern, wine cooler and speaker in 1 is a favorite of many because of the beautiful design, the multifunctionality and the beautiful multi-color lighting. Wine cooled, music on and a multi-colour light. What more do you need? New is The.Lampion XS. Although it's rather too small to cool a bottle of wine, it's great to use as a table or desk light. Due to its rather friendly price, The.Lampion XS is definitely a favourite as a 'different' gift.
No less successful as a gift are The.Boards, our serving boards. We offer these in two different types of wood in two sizes. Our serving board is made of wood from French wagons which are around 80 to 100 years old. Our other serving board, made of rubberwood, can also be used as a cutting board. Both boards have our characteristic leather handle on both sides similar to our Lampions. Standard boards have our name is printed on them, of course it can be personalised and provided with the brand name of your own organisation if you wish.
The.Diffuser is especially popular with our female customers. This fragrance evaporator ensures excellent air quality and a wonderful fragrance. The.Diffuser comes with a box with 6 different scented oils.
Personalised.
For those who want to stay in the spotlight, we offer the possibility to personalize our products. This can be done by printing the brand name of your organisation on the leather handle, with which most of our products are equipped. Please feel free to contact us to discuss the possibilities via our contact form on the right, by mail to info@nikki-amsterdam.co.uk or by phone 07740 232603. info@nikki-amsterdam.co.uk or by phone on 07740 232603.